Mike's working nights... Ava asked him this morning if he slept in a sleeping bag. When I explained to her last night that daddy would be home in the morning but the would still be able to sleep at work she said "OH! In a sleeping bag! Like a sleepover!" lol. Oh another funny Ava bit from this morning... "Charlotte! I don't want your boogers in my nose!" ROFL. They were playing and I guess Charlotte decided to pick her nose and try to transfer some to Ava... my goodness...



Went to CVS and Walgreens before I made dinner tonight. I should have waited and gone tomorrow because Walgreens has a 15% off coupon and they're giving away a free tote/green bag with every purchase. I might still go tomorrow, lol.

Of course I took pics too... world biggest nerd here :o)

CVS -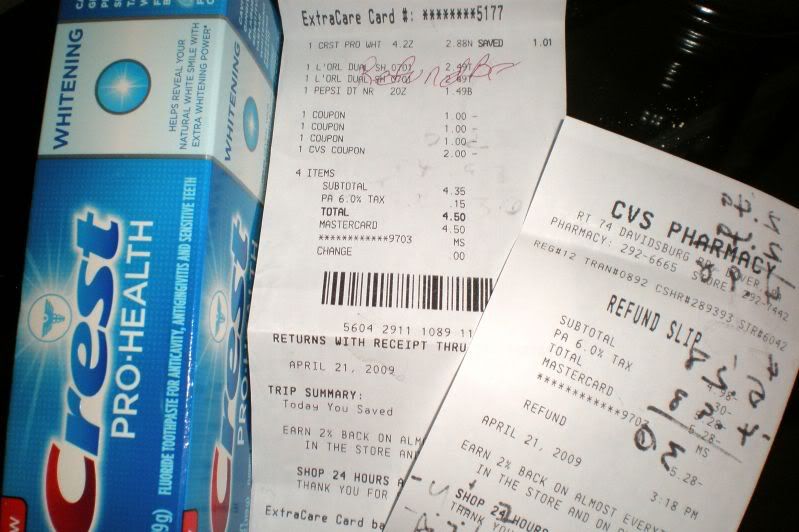 Just got Crest ProHealth Toothpaste...and a Diet Pepsi because I didn't have any cash on me and I didn't want to use my card on what I thought would be like .40, lol. After I checked out it came to $4.50, and I thought that was way high so I questioned if something came out right and I guess I grabbed the wrong thing. L'Oreal eye stuff was supposed to be b1g1, I thought it was anything for eyes so I grabbed some eye pencil sharpeners, and with my coupons it would have been .49 for two. Turns out they were not part of the b1g1, so she asked me if I wanted to return them and I said sure, lol. So, I paid $4.50 at first, and got refunded $5.28 because she couldn't give me back my coupons, LOL. Plus I got a $2 ECB. Not bad, I basically got paid .78 for them to give me toothpaste and $2 to use later. Not what I originally planned, but hey I'll take it. Ignore my chicken scratch on the back of the reciept, I was figuring out the math and the closest writing instrument was a silver sharpie that bled through.

Moving on to Walgreens -




12 Roll pack of Angel Soft - store coupon from the ad made it 2/$6 (you do not have to buy 2, it will still take off half the sale if you buy 1...in this case, it made it $3), and I had a $1 coupon, so $2

Reach toothbrush, $1 coupon and in ad coupon that made it .99 = free

Chapstick - $1.99

2 Dawn dish detergent - $1 coupon for each and in ad coupon that made them .99 = freeeeeee

Jane eye shadow pot - clearance for $2.19, and I had a $2 coupon... .19!!

Used my $3 Register Reward I had from the last trip, and paid $1.52 for all that. ...and of course got another $2 RR. I swear I am not buying anything there ever again without something that will generate a RR, lol. Why I didn't catch on to those sooner I have no idea...they're awesome.





Sweet :o)