My Saturday shopping...
CVS -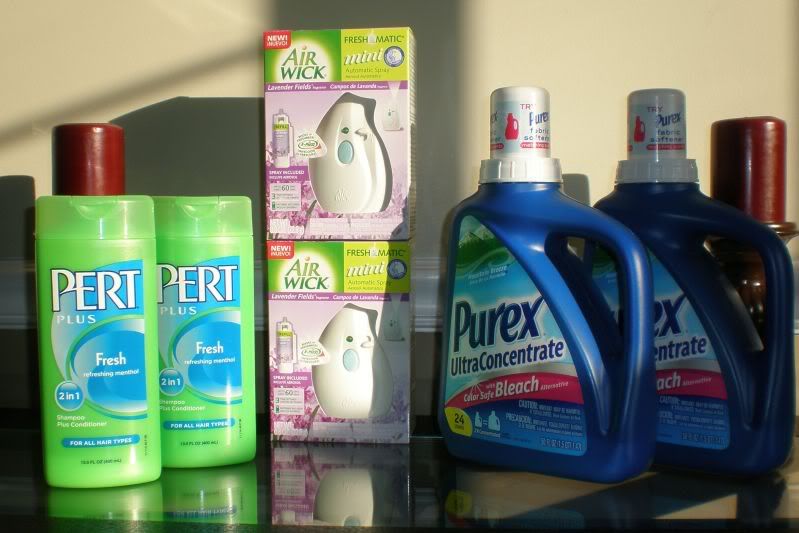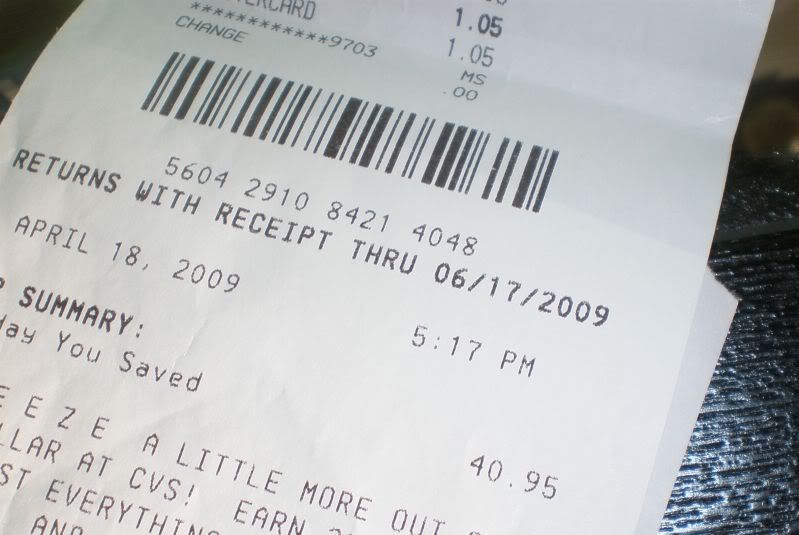 2 - Pert Plus (2.50 each, sale, minus 2 $1 coupons) $1.50 each
2 - Air Wick Freshmatic Mini (4.99, sale, minus 2 $4 coupons) .99 each.
2 - Purex ($6.99, b1g1free sale, used a b1g1 coupon) FREE

Used the 3.99 Extra Care Buck I got the day before when I bought the toothpaste and spent $1.49 out of pocket, and paid $1.05 for this trip.

And of course...I got $2 ECB for buying the Pert Plus, so I made $2 for spending $1.05 :o)

And also, I had two of the B1G1 Purex coupons (would have had more but my printer wasn't fixed in time, my mom printed me the two I had), but when I was in the store they only had 3 bottles on the shelf. So I just got two, well my mom said I should have gotten a rain check so she went in to get me one, lol... so they said they had more in the back and she used my other coupon to get me two more bottles free, but decided she would also just buy another bottle to get another one free, so she paid the $6.99+tax for one bottle and got 3 free bottles using the coupon :o) I am STOCKED on laundry detergent, lol. I should take a pic of my laundry shelf now, lol... I just got a huuuuge thing of free bleach yesterday too at the grocery store...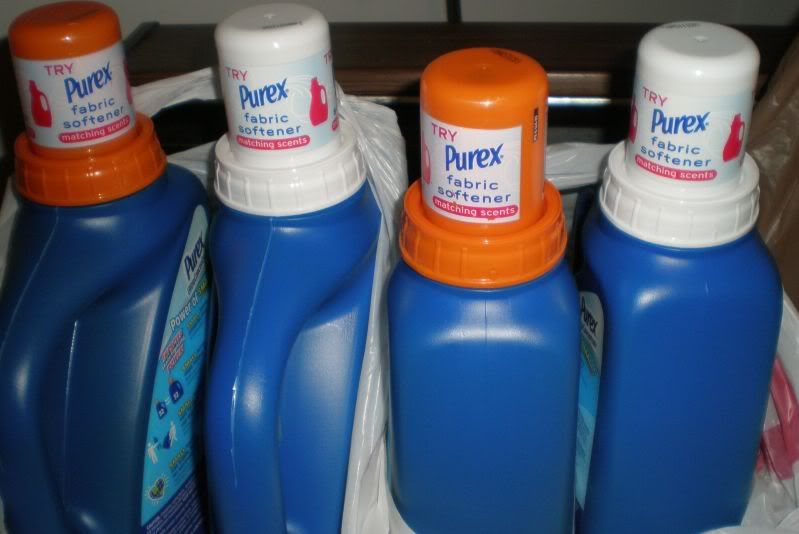 And on to Walgreens...where I screwed up...boo!




1 Edge shaving gel - $2.99
1 Walgreens Aluminum Foil - .59 with in ad coupon (?) it was cheap, lol. it was supposed to be the "filler" item to get me up high enough to use my two Register Rewards.
1 pack of Scrunchies... that is where I screwed up. I bought the wrong brand, and they were the wrong price. Ugh. They were supposed to be $2, but they were $1.29.

So I get to check out and my total is lower than it should have been, it didn't even dawn on me why, so I'm like hmm, maybe I did my math wrong, wouldn't be the first time, lol...so I add on a chocolate egg from the checkout counter for .12, still not enough, add on 2 more, lol, bumps my total up enough so I think, but the register still wouldn't take my last register reward... manager came over and said it had to be high enough of a total before tax...so I grabbed a chapstick because it was the closest thing to me but that was stupid, since the chapstick was .99 and I should have just grabbed another 12 cent egg, lol. Paid $1.08 for everything after my Register Rewards from the previous trip, and am annoyed because it should have only been like 10 cents, lol.

So I get out to the car and realize only the Register Reward for the Edge printed (got $3 for buying that), but not for the scrunchies. Turns out I bought the wrong brand so of course the RR didn't print, but the girls were getting cranky so we just left, and then it was too late to go back later when Mike got home because it was the girls bedtime. Had to just take a hit on that because the deal with the scrunchies was only through Saturday so I couldn't exhange them for the right ones on Sunday. Oh well. So if I had done it right, I would have paid like 10 cents and made $5, but I didn't so I paid $1.08 and made $3. Ehh, live and learn.