Target:

3 Snak Saks @ .52/each using Target coupons

5 boxes of Quaker True Delights (LOVE the banana macadamia nut)... .59/box!! Used $1 mf coupons and $1 Target coupons on each.

5 (4 pictured, lol) Hershey's Bliss Bars - free... they were .99 and Target has $1 Bliss coupons that do NOT specify size restrictions!! :o) I will be getting more of those...they're yummmmmy.

Saw a pair of shorts for $1 (5T, will fit BOTH girls, lol) so I grabbed them..can't beat $1 shorts.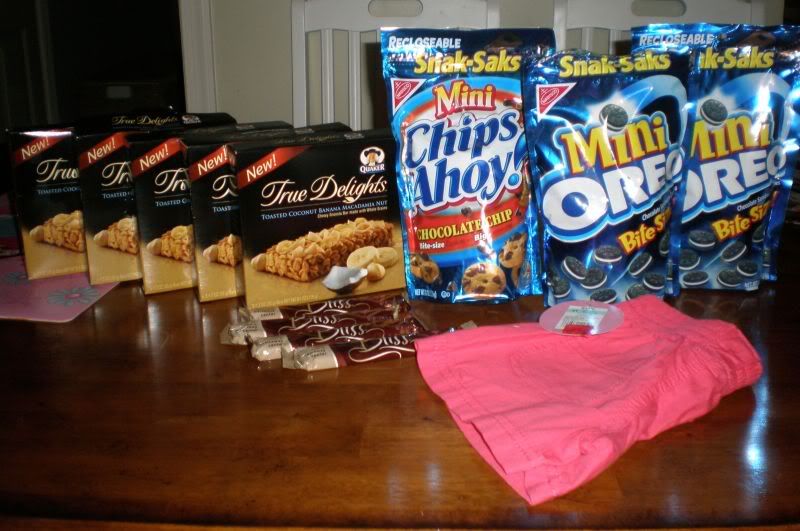 Walmart -

4 t-shirts for the girls (2 blue, 1 green, 1 white) they were $1 each.

2 Grill Mates maridades. They were .75 each, but I had a .50 coupon and a $1 coupon so they were both free :o) Walmart isn't supposed to adjust the value of coupons down so they give overage!

7 Evercare lint rollers - .97/each, used 7 $1 coupons. Freeeeeeeeeeee.


And on to the all important Walgreens:

Got the free 8x10 (but I didn't make sure it was high enough quality...I tried to make my own collage...I suck apparantly, lol)...so it didn't turn out.

a .14 cent highliter as a filler for my item/coupon ration (though in retrospect I didn't really need it because the picture counted as an item)

Colgate Sensitive enamel protect toothpaste - $4.49. Used a $1 coupon.

Used a $2 RR I had, and paid $1.64 to get back a $4.50 RR. I wasn't thrilled with paying $1.64 but that's not bad to get back that much in RR.


I had intented to do a second transaction and pay like 60 cents out of pocket and get back another $4, but they were out of the Pert Plus for Men. Boo! Totally screwed me up.

Here's my little "cheat sheet" I took in with me so I knew what to get...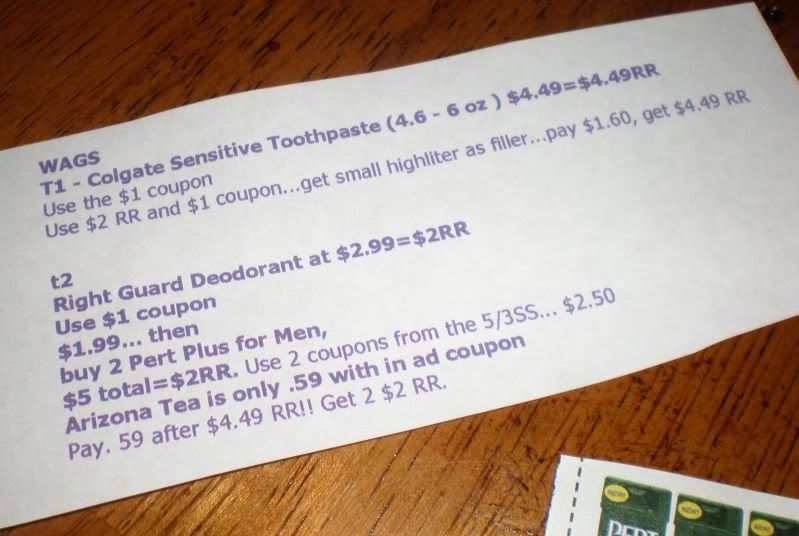 I skipped going to CVS today because I didn't have a coupon I thought I had....for Adidas deodorant... SAD FACE... Mike picked up the paper for me on Sunday while he was working, but where he went only had the Carlisle paper and not the York...so it was missing a lot of coupons :o( Bigger cities get more coupons. So I will probably still go but I wasn't happy at the thought of paying $1.99 out of pocket for my scenario rather than just .99! I'm cheap, I know, lol.