I won this giveaway a few weeks ago. It came and the kids are loving the new outside toys. We also already got the free yogurt.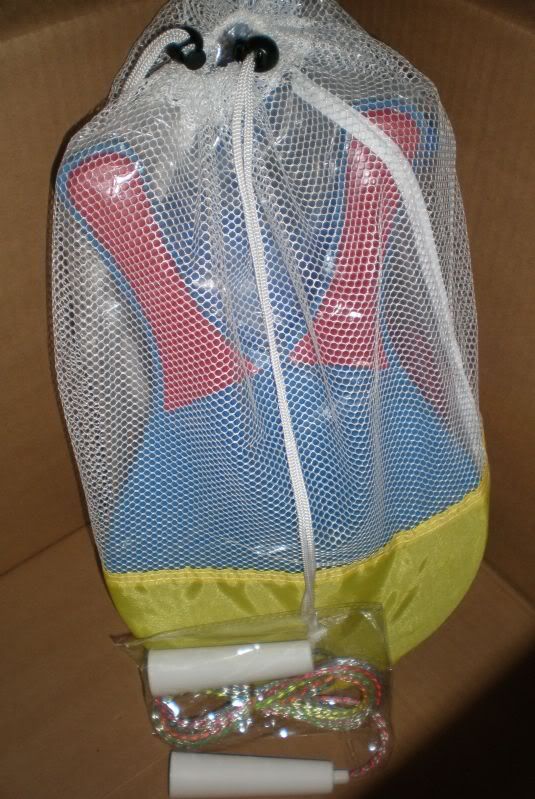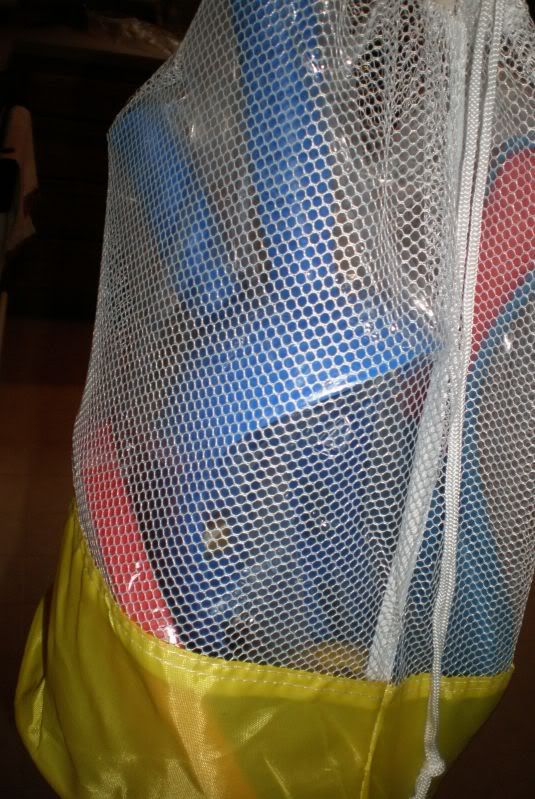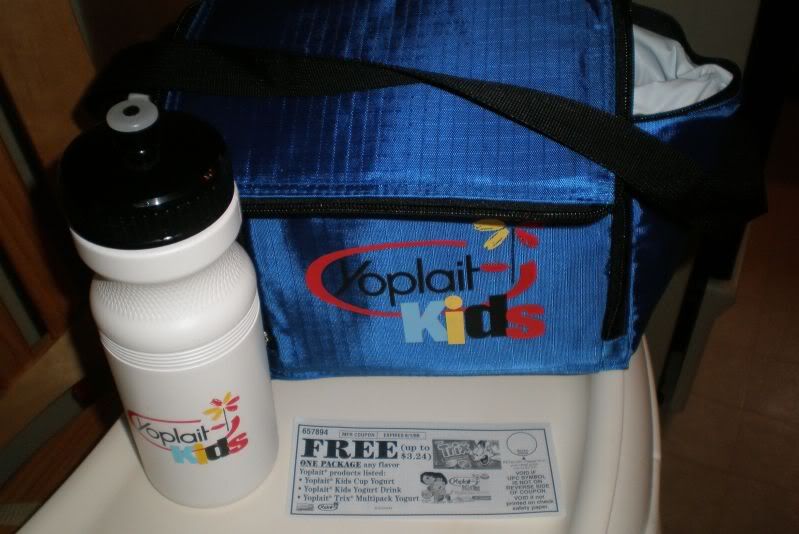 Then, I went back to Kmart for the doubles last week (and amazingly enough they are doubling AGAIN this week so I may have to go back if I can get over that way Friday or Saturday :o) )

I spent $1.94!! Total coupons used was $13, but that doubled to take an extra $10.25 off! (since they don't let you get overage, but will allow it to double up to the price of the product). Kmart is pricey but man those doubles are niiiiiiiiice and you can get so much cheap cheap cheap. The girls love those nail decals.

Clean and Clear cleansing pads - $3.50. $2 coupon doubled to make them free. x 2

Renuzit Air Neutralizer - $1.72 (??) $1 coupon doubled to make it free.

Kotex pads - $1.xx, $1 coupon doubled, all free

NYC roller lip gloss (perfect for Ava!!) - $1.99 - doubled $1 coupon - freeeee

Sally Hansen Nail Polish - $2.39 (?? it's been too long, I forget, lol), doubled $1 coupon - .39!

Kiss Nail Art - $2.29 - $1 coupon doubled to make them .29 each. (3)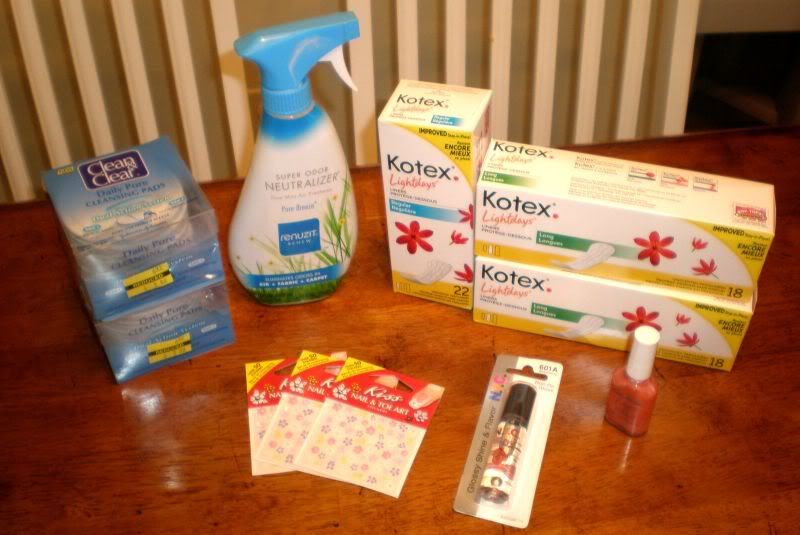 Checked the mail and got the Fitness tote I "won" (was one of the 1st 1,000 or 10,000 or something to enter to get it). We were up at midnight and it was a text it thing so Mike texted it for me and we got it :o)

It had a full size CVS brand 70 spf sunscreen (and if you know me, I neeeeeed that 70spf! lol) It says it compares to Neutrogena...it's good stuff, I already used it.
Vaseline lotion in a gel form...also full size. I guess good for after sun, if you've got a sunburn? It reminded me of aloe gel.
Olay Body wash, full size.
Pantene Shampoo, full size
Sample of Playtex Sport tampons
$5 CVS gift card (what I actually wanted most, lmao!) and then of course it came in the tote bag, which is actually heavy duty and would make a great beach bag or even be strong enough to carry groceries if I use it for that.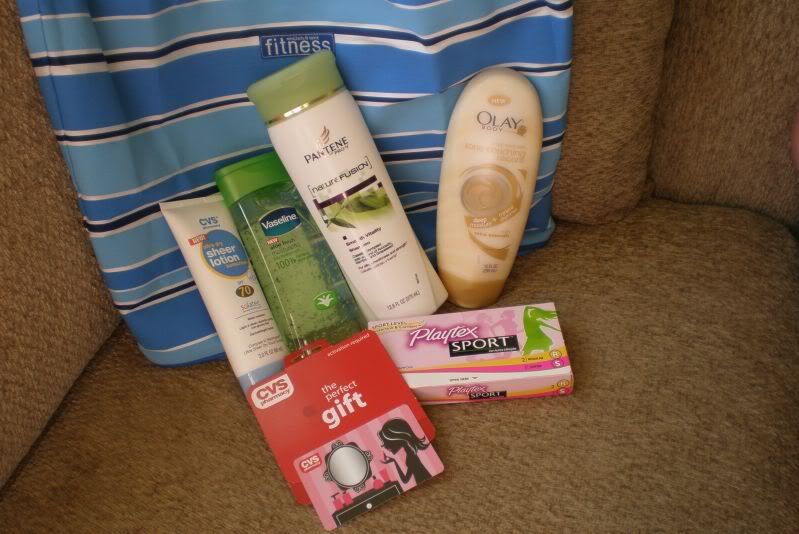 It's always fun when I check the mail and get something I have no idea where it came from. Don't remember signing up for a sample, or winning anything... it was a nice surprise :o) It came directly from Dove and it's a full size deodorant with a LOT of $2 coupons!!! I should be able to snag a bunch of free or cheap Dove deodorant at the Kmart doubles...yeehaw! :o) I will absolutely share too, lol, even I don't need a stockpile of 50+ deodorants.
I really like this stuff too, smells great.
Trip to Target...

6 Bags of Nabisco Snak Saks. All .52 each after using the Target coupons.

Dry Idea deodorant - free after a $2 coupon

Pull Ups, I was excited about because Ava wears them at night still...I had a $3 coupon and they were clearanced to $8.74...so I got them for $5.74!! I was there to buy pull ups mostly anyway, and we usually just get the Target brand b/c it's like $10. I forget the exact price...but that was an awesome find. I had more $2 coupons and I should have bought more but I was blinded by the $3 coupon, lol. Of course they don't have any more now :o(

Also got Jack some Party Mix because I had a b1g1 Target coupon and a $1/2 manufacturs coupon so it was .42 total for both of them.

MY NEW LAUNDRY SORTER
!!! It was 67.xx from Amazon and I didn't actually pay a cent because I used my survey gift certificates...woohoo! I would never spend that much on a laundry sorter but I wanted something decorative since it's in a commonly seen area.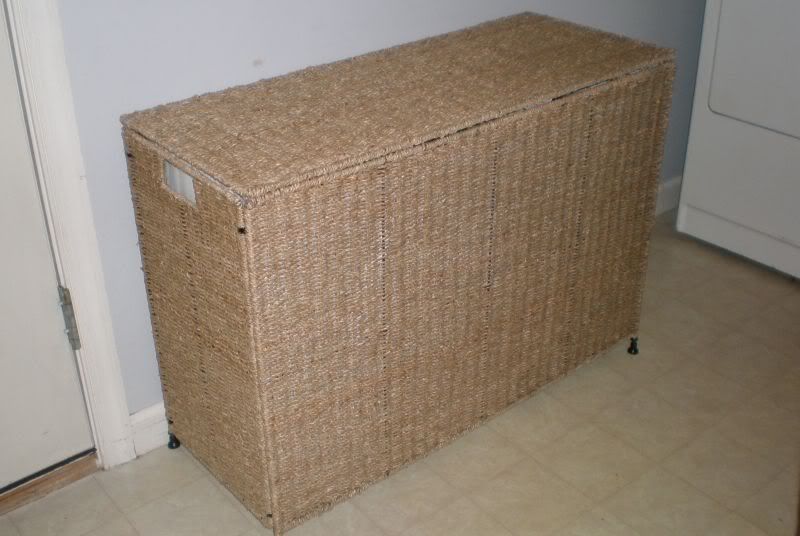 Last weeks Walgreens trip:

It kind of sucked because I couldn't print out the $2.25 coupon that was available for the Ecotrin. I grimaced when I paid, lol, but I wanted to get the $2 reward for buying it so I did.

Ecotrin - $2
2 Rimmel Eyeshadows. B1G1, made them 2.50 each. Had $1 coupons so I paid $1.50 each. That was stupid of me, lol...I really didn't need them and I'm sure if I waited I could have gotten a better deal than that.

I used a $2 RR I had and paid $3.xx and got a $2 RR back. That sucked. I am spoiled and don't like paying out of pocket more than I get back to use again, LOL.


CVS was better... I guess :o)

2 Zooth toothbrushes. They only had Hotwheels left but I know the girls will love them anyway, lol. They were $1.99 each, and I had a B1G1 coupon. You also got a $2 ECB for buying two.

Rimmel mascara was B1G1 so I used a coupon for a Free Sexy Curves mascara and that took off $6.xx (the mascara was $7.xx, so I really paid $1 for it...) and got the Glam Eyes mascara free... 2 for a $1 isn't bad, lol...and it looked through them all and found ones that had bonus eye liner pencils!
Used the $5 gift card I got, shown above somewhere...and didn't spend a cent out of myyy pocket ($1.01 on the gift card)... and got back a $2 ECB. Now that's what I like "spending" $1 to get $2, lol.